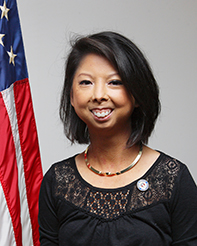 A Message from President Christina Yu . . .
Greetings! It is my honor to serve as President of the Chinese American Citizens Alliance, Oakland Lodge for the year 2014. My time spent working for C.A.C.A. dates back over 10 years and it has been a pleasure working amongst brothers and sisters who serve our community so generously.
As an Oakland native, I am proud to be a part of an organization that has served its community faithfully for more than 100 years. Currently, the C.A.C.A. Oakland Lodge sponsors weekly line dancing and Tai Chi classes at the Lincoln Community Center in Chinatown that is free to the public, an annual Independence Day Celebration serving free lunches to over 300 elderly citizens in Chinatown, a scholarship program awarding 9 college-bound high school students in Alameda County annually, and local students to participate in Asian Students in Action, a national youth leadership conference. Especially since this is an election year, the Oakland Lodge will continue its efforts to educate and register eligible voters to further community involvement in matters that effect them.
As President, I will continue our mission to empower Chinese Americans by defending American citizenship, improving educational opportunities, promoting political involvement, and preserving historical and cultural traditions. I look forward to working with you and continuing C.A.C.A.'s legacy to better the general welfare of Chinese Americans.