Welcome Convention Delegates!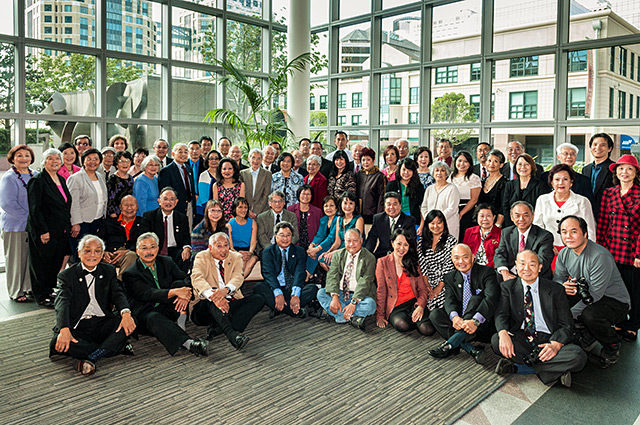 Fourth of July Celebration with Seniors
On July 4, 2013, over 60 volunteers dedicated their time to C.A.C.A. Oakland Lodge's Annual Independence Day Senior Luncheon at Lincoln Community Center in Chinatown, where we hosted a flag-raising ceremony to honor Chinese American veterans, and provided free meals, entertainment, and tote bags filled with donated gifts to almost 300 elderly people.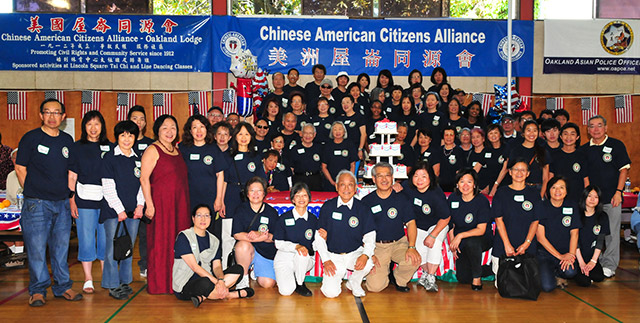 Oakland Lodge Scholarships Awarded
On June 15, 2013, The C.A.C.A. Oakland Lodge celebrated its 101st Anniversary and Scholarship Awards Banquet at Peony Restaurant in Chinatown. We had the pleasure of having Douglas Wong host this event as our Master of Ceremony and the Scholarship Committee present scholarships to this year's recipients, which included Jennifer Au, Jonathan Cheung, Tiffany Feng, Nora Lam, Vania Lei, Jianfeng Liang, Michelle Lu, Melanie Tsoi, and Xinen Yu. Awards were also presented to C.A.C.A.'s National Essay Contest local winners, which included Katherine Chang for Merit Award, and Lawrence Luo for First Place. This year's C.A.C.A. Oakland Lodge's Scholarship Committee included Adrienne Fong, Richard Fong, Danielle Siu, Linda G. Wong, Christina Yu, and Felicia Yu.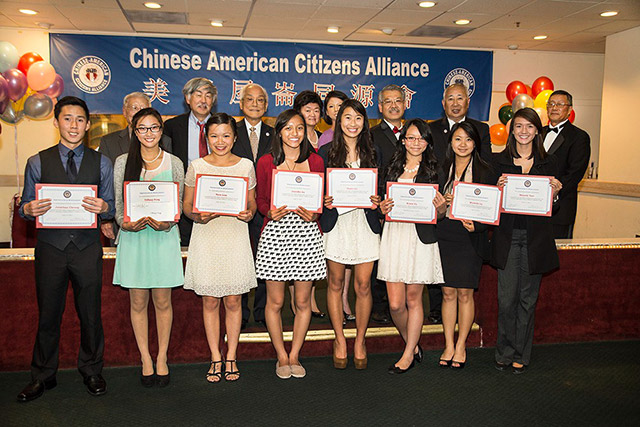 "Remembering 1882" Exhibit
On Saturday, January 5, 2013, the Fremont Public Library held the opening ceremony for the "Remembering 1882" Exhibit. Grand Executive Felicia Yu spoke of her experience as part of the Advocacy Committee in Chinese American Citizens Alliance, who played an instrumental role on securing the passage of the Congress resolutions that expressed regret of the Chinese Exclusion laws. The reception was well attended by many members of the Chinese community, including President Edward Yu and Secretary Christina Yu. 世界日報報導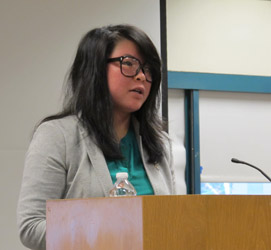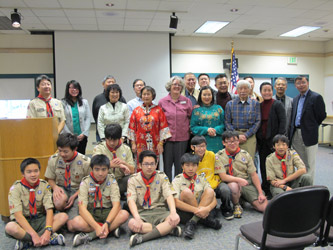 Oakland Lodge Installed 2013 Officers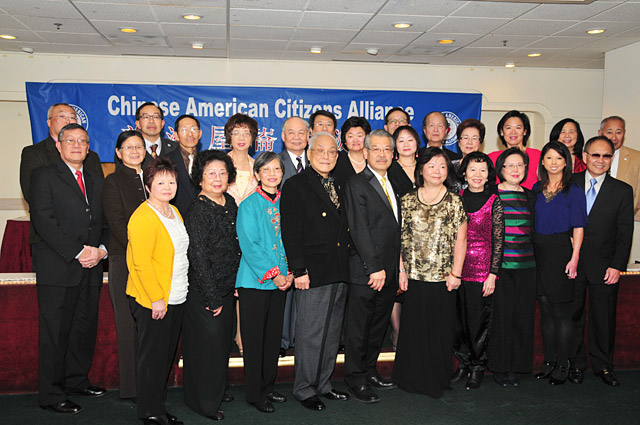 Oakland Lodge Celebrates Centennial 1912 - 2012
The Oakland Lodge of the Chinese American Citizens Alliance celebrated its 100th Anniversary on June 9, 2012. Over 300 guests, including representatives from other CACA lodges across the nation, officials from the City of Oakland, and leaders from the Chinese community, attended the sumptuous banquet. Oakland Mayor Jean Quan presented a proclamation to the Lodge, and also proclaimed June 9, 2012 the "Chinese American Citizens Alliance Oakland Lodge Day."
Since Oakland Lodge is one of the oldest civic organizations in Oakland Chinatown, its centennial is considered a major milestone in the annals of civil rights struggles of Chinese Americans. Both of the two largest Chinese language newspapers -- Singtao Daily and World Journal -- gave extensive press coverage of the event.
星島日報報導-1
星島日報報導-2
世界日報報導-1
世界日報報導-2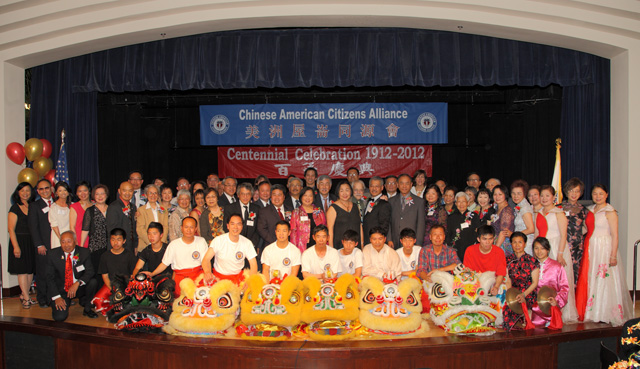 A Tale of Two Cities: Oakland and Jiangmen
by Edward Yu
Recently, I traveled to China for two purposes: 1. to get away and visit friends; and 2. to seek out opportunities to establish business development and cultural exchange under the authority of Oakland Mayor Jean Quan. I knew that the later purpose was important due to my work at C.A.C.A. and my love for the City of Oakland.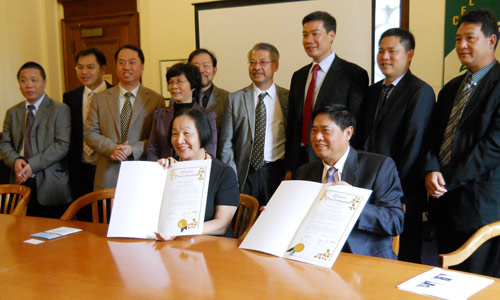 On this trip, one of my stops was Jiangmen, located in Guangdong. With the help of a local friend, my first contact was with the Director of Passport and Visa Division in Guangzhou, Mr. Ding Hua, who introduced us to the Vice Director of Jiangmen Foreign and Overseas Chinese Affairs Bureau, Mr. Jason Wu, who agreed it was to our cities' best interest to establish a friendship city relationship in order to stimulate future growth in cultural and economical exchanges. During our discussion of Port of Oakland's crucial role in import and export with Asia, it was discovered that a Jiangmen Government Delegation was coincidentally scheduled to visit North America, including stops in New York and San Francisco. Mr. Wu decided then that a visit to Oakland was required and requested that I coordinate a meeting with Mayor Quan, arrange a tour of Oakland, and organize an opportunity to meet with Chinese community leaders. [Read More]
CACA Members Support Mayor Jean Quan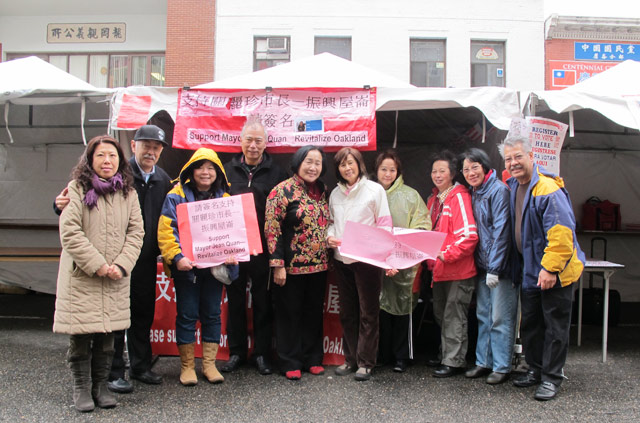 Many members of Oakland Lodge and volunteers helped at the Mayor Jean Quan's booth at the Chinese New Year Bazaar to collect supporting signatures. There were over 1,700 signatures collected during the weekend. Many felt the recent attacks on the Mayor were unjust, because she has been in office merely a year and she has to deal with many ongoing and unforeseeable issues the city is facing. It is not fair that she is not given a chance to do her job.
On Mayor Jean Quan's Campaign Trail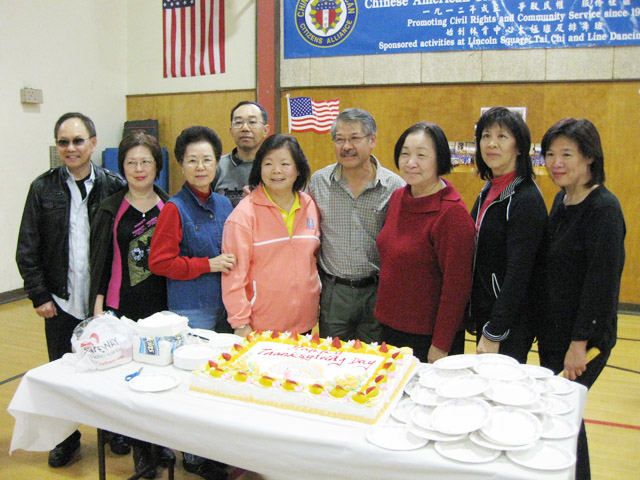 Members of the Oakland Lodge were actively involved in supporting Oakland Mayor Jean Quan's campaign, from kicking off her campaign, passing out leaflets, outreaching at street fairs, attending debates, visiting senior homes, translating to Chinese speaking seniors, to fundraising, and town hall meetings. Mayor Quan is the first Chinese American and the first woman mayor in the history of Oakland. We at the Oakland Lodge are proud to be part of this history.
Here are more photos and slideshow of our campaign activities.